The introduction of solid wood shutter
HEZE HUASHENG
HEZE HUASHENG
2017-12-22 16:37:56
Venetian vent Windows originated in Europe, in Europe and the United States the dosage of the wooden ventilation window accounted for more than 60% of the total dosage of window ornaments, with elegant appearance, the complex manual process, there are a lot of elegant colors to choose from. In the summer, keep good ventilation breathable environment, is the most effective way to remove indoor pollution, and solid wood blinds just realized the shading and ventilation synchronization function, the traditional curtain block ultraviolet light efficiency is 60% ~ 60%, real wood shutter blocking efficiency of 95% above, white blade effect is better.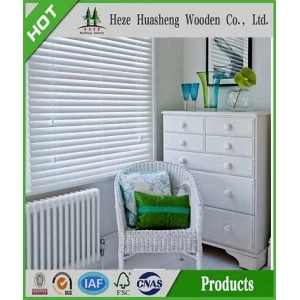 Sedate exterior makes solid wood shutter is more attractive than common curtain, heavy folding design more accords with the pursuit of illicit close sex. The shutters of solid wood texture make the person feels the breath that comes from nature at a moment, also more easy to draw a kind of adornment style to make a point eyeball. In a European country style villa design, in order to meet the design requirements of both pure and fresh and simple but elegant and full of romantic, in the design of the bedroom, stylist is applied the white wood shutter, ensure the unification of overall and tonal also properly and be in harmony of country decorating.
The wooden shutters of the horizontal opening seemed like a beautiful curtain, which looked like a wooden fence window, except that it was made of wood. The blinds are light and easy to install, and the wood has been specially treated to ward off mold and mildew, and the most popular material is redwood, white oak or pine. The best wooden shutters in China will be made of fine northeast heilongjiang basswood, which can be fumigated to prevent insects, mildew, and deformation. The use fixed number of year of real wood shutter has a very long, after years of baptism, as long as the recoating coloring can repair the old as new, though to invest a few bigger, but relative to 3 ~ 5 years is necessary to replace ordinary curtain material value of consumer choice.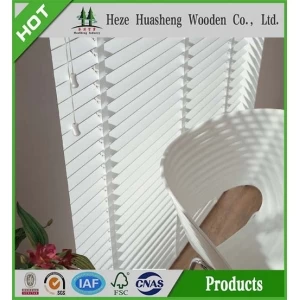 Vertical wooden shutters can easily grasp the indoor lighting, easy to be pulled to one side to make the room full of sunlight and outdoor scenery; Close behind closed tight, completely dark a room, ensure privacy. Among them, the wooden shutters of the Roman shade style are the most desirable, the accordion folding of the wings, installed in the inside of the huge floating window, the ability to receive the degree.
Real wood shutter blade is bigger, so is better than traditional shutter scrub, but making wood shutters are all through the moistureproof, anticorrosive processing, but time is long and prone to water vapor adsorption and lampblack, leaf deformation caused by a window, affect beautiful, so should not be real wood shutter installed in kitchen lampblack is too big and heavy moisture toilet.