How To Choose The Best Wood For Your Indoor Window Shutters
HEZE HUASHENG
HEZE HUASHENG
2018-03-14 17:57:36
There are a lot of wood choices that you can use to make blinds, but some are better than others. Let's take a look at some of the wood you might not be supposed to use, and then look at the recommended wood.
Although oak is a very good hardwood and can produce high-quality furniture, but when they are used for louvers, they may have some problems. For beginners, oak is very heavy, so the oak interior blinds will add a lot of weight to the side panels of the windows. They also have to drill holes in advance, not suitable for painting, and the shutters are easily warped. As you can guess, these are not a good choice for the shutters.(Wooden venetian blinds supplier)
Like oak, maple is a very heavy wood, often used in furniture such as tableware and bedroom furniture. Because it is too heavy, it also needs to drill the window frame in advance, and the blinds are hard to be properly tensioned.(High quality Timber venetian blinds)
We're going to get into the next area of the woods that are suitable for the blinds. Poplar is a medium weight wood. If the final product will be painted, the effect is very good, but the inherent green and mineral stripes of the wood are not allowed to stain. Easy access and cheap, resulting in low quality wooden shutters.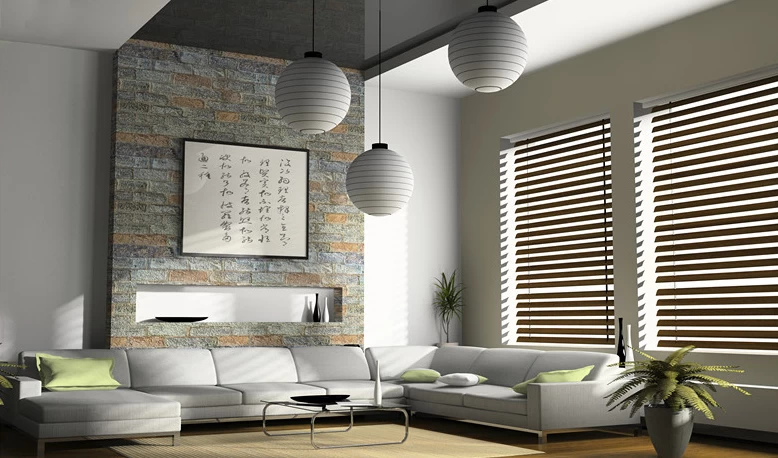 Cedar is a good choice in some cases, because its grinding and surface quality is very good, but it is a very soft wood, easy to dent or scratch. If you are thinking of using wood for external window treatment, it has excellent insect resistance and corrosion resistance. It will last for a long time without any maintenance.(Custom made Plantation shutter)
Pine is a kind of wood, which is used to build houses and furniture and many different products. It is very soft and there are many grades of pine for choice. In spite of this, this is not the top of the window blinds in my list.
Many people believe that the best wood is basswood. The tree is mainly located on the east coast of North America, from Quebec in Canada to Delaware, to the eastern part of the west of Kentucky. The average height of the trees is more than sixty-five feet long. Is a kind of basswood management of renewable resources, a new way of harvesting of trees to balance the growth of trees, and eliminate other wood. The resulting blinds are very straight, with a fuzzy texture and a uniform texture.
Basswood blinds have very straight, with fuzzy texture excellent, they are easy to install, and can be dyed a beautiful surface.