Heze Huasheng Wooden Co,Ltd will be on the show in R+T Asia in Shanghai China, show time is Feb. 2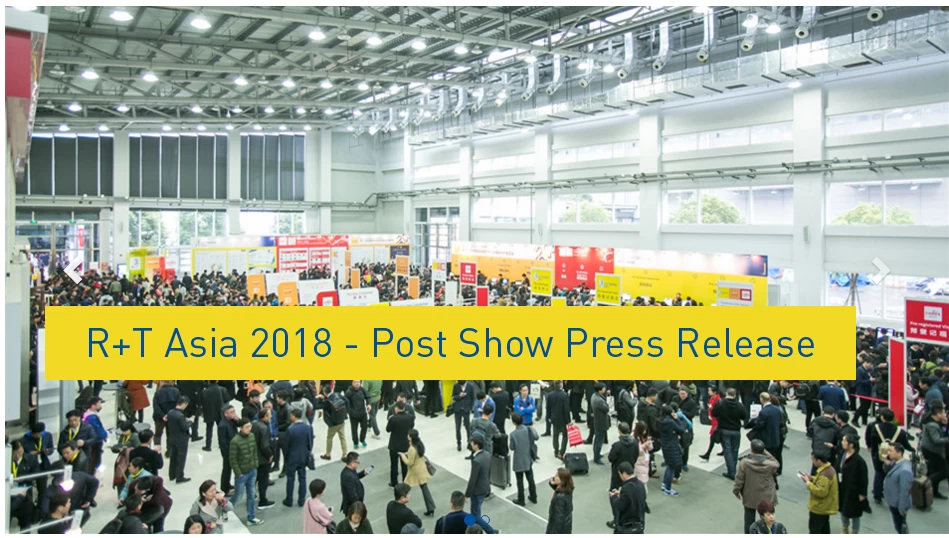 GROW YOUR BUSINESS WITH R+T ASIA
Winning sales in Asia is not easy. It requires regular direct engagement with buyers, differentiating your product performance versus competitors, providing after-sales support, and gaining the customers' trust. Participation in an international fair is an investment for any company, but it's critically important to choose a trade fair that is dedicated to key sectors of your market.
The R+T show has a long tradition. Launched 50 years ago in Stuttgart, Germany, it has become the most important trade show in the sector. Since its beginnings in 2005, R+T Asia has become the leading trade show for the APAC market, producing successful annual trade shows in Shanghai.
R+T Asia focuses on the rapid development of the domestic construction market in China and its Asian neighbors. The goal of the fair was to grow international business in Asia as well as supporting exports to the West. Now, 11 years later, it's clear that this goal has been reached and R+T become the most complete products show in the area of roller shutters, doors/gates, and sun protection systems. The product scope ranges from exterior Venetian blinds to awning control systems, from fire protection doors and gates to security equipment.
R+T Asia is the place where East meets West every year to create new opportunities, find strategic partners and enhance existing partnerships, exchange new technologies, and discuss market trends, needs, and design.
Much more than ordinary international fair, R+T Asia provides networking initiatives that match local, regional, and international businesses and offers branding opportunities that are rare in other Chinese events.
Our "Match-Making Program" allows exhibitors to launch their newest products electronically before the show. Visitors can then identify the products of their interest and arrange on-site meetings in advance. Exhibitors can highlight unique features of their newest products for and achieve maximum exposure for their brand.
R+T Asia's InnovAction campaign gives exhibitors the opportunity to showcase their most innovative products before and during the show. This responds to customer requests for innovation and higher energy-efficient products.
R+T Asia showcases each year's most technologically advanced products both online before the show and during the fair in a special exhibition area. In 2017, Materia, the global network for materials innovation, will present a specially curated material selection for the Asian market. The collection is titled "Magnificant Materials" and brings you the newest, most innovative, and unique materials that play with light. Learn more about Materia.
Be smart. Live smart. R+T Asia 2018 will display a special area Smart Home 2025, that will focus on building automation. The aim is to demonstrate new dimensions of current technologies and to display "intelligent" products that provide homeowners with more comfort, security, convenience, and energy efficiency. For more information .
To bring networking to the next level, R+T Asia provides exclusive conferences like the International Window & Door Summit, the only high-end international summit in the window, door/gate, and sun-protection system industries in Asia Pacific region. Global leaders and experts gather for this event every year, sharing the latest trends and discussing hot topics about the market and technologies.
Our motto is "We make business happen." Every year, R+T Asia invites new influential buyers who didn't attend the show last year to participate in our Hosted Buyer Program to provide exhibitors more opportunities to grow their business.
Think global. Work global. Coming to R+T Asia gives you access to Chinese and other important APAC markets like Korea, Taiwan, Hong Kong, Indonesia, Australia, and New Zealand. Beyond APAC, in 2017 we also attract suppliers and buyers from the USA, Turkey, Germany, France, Belgium, Italy, Spain, the Netherlands, Sweden, and Switzerland.
In short, suppliers and buyers trust R+T Asia because of our level of service, business support, efficient use of time, clear organization, attention to detail, and responsiveness.
We connect people from all over the world: R+T Asia is a three-day business-to-business international trade show for roller shutters, doors/gates, windows and sun protection systems. Held every March at the huge New International Expo Centre in Shanghai, R+T Asia is a unique opportunity to network, meet new business partners and expanding business.